Frequently asked questions
What are the age requirements
---
Children can start as young as age 4. Adults no age limit as long as activity is performed safely.
---
If I earned a rank at another martial arts school can I wear it at Champions NW
---
Every senerio is different and is at the discretion of the Instructor. At the end of a semester, the Instructor will evaluate the student with consideration of learning new self defense, forms and weapons ect. At that time the Instructor will determine the appropriate rank that student will have.
---
How do I tie my belt
---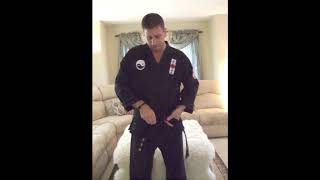 ---
Why is Champions NW so inexpensive compared to other martial art schools
---
Champions NW doesn't own a brick and mortor building. Instead, we rent buildings such as schools, lodges and clubs (boys&girls) to host our classes. Champions NW doesn't pay a mortgage or lease and aditional things like water, garbage, electricity and sewer. As a result, we are able to pass on the savings to our students.
---
Besides cost, are you similar to other martial arts schools
---
Yes. We teach sef-defense, forms, sparring, weapons ect like other schools. Generally we will have a tournament once a year. Uniforms and gear are also available.
---
If a person has a disability is he or she able to take martial arts, and if so, can that person eventually become a black belt
---
Our martial arts program offers an opportunity for students with challenges to be able to participate in a mainstreamed program. Here at Champions NW we strive to be able to allow each student to develop to his or her fullest potential. The staff believes in focusing on their strengths and implementing modifications in order for the student to be successful. Our programs here at Champions NW do not discriminate against students no matter what his or her diagnosed disability. Champions NW is honored to have a distinctive black belt opportunity for our students with challenges that participate in our program.
---
---